NEW News!!!
This is where you'll find new and exciting information about what's happening with the VOX BOX Arts Collective...
---
The Vox Box After School Arts Program at Edison will be starting up again on March 24th!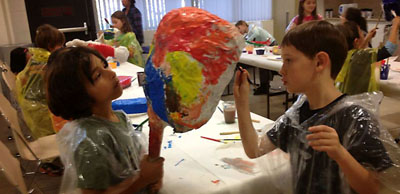 Give your kids the gift of the arts TAUGHT IN SPANISH! Our multi-talented teaching artists led by lead teacher Estela Garcia will create an atmosphere of fun, adventure an innovative creativity that will include masks, music, visual art, theater games and MUCH MORE. Snack is provided. AND, our group will be creating a presentation at the end-of-year CARNIVAL!!
Mondays
March 24, 31
October 14, 21, 28
May 5, 12 and 17 (Carnival)
Kinder ARTS! 1:20 – 2:15 every Monday give your Kindergarten kid a creative end to their school day with some innovative and imaginative art and music! (They can also stay for the next session – see below)
Grades K-6 – 2:00-4:15
From 2:05-2:25 K-3 kids will do exploratory free art projects
From 2:25-4:15 K-6 creative art instruction time
Make MASKS and PUPPETS, draw, paint and do fun THEATER GAMES! This session will be geared towards created a presenation of theater, art and music for the school at our end of year celebration!
If you're unsure what to pay please write to us at for an invoice total.
Or you can pay by check, payable to Vox Box (there is an envelope in the front office for enrollment forms/payment)
Kinder Art ONLY - $70 (1:20–2:15)
Kinder for FULL DAY - $200 (1:00-4:15)
Grades 1-3 - $140 (2:00-4:15)
Grades 4-6 - $140 (2:25-4:15)
Sibling discount - $30 discount per class for each sibling
FINANCIAL AID AVAILABLE
Here is a link to a video from our Winter Art Workshop.
Here is the link to sign up.
View our albums on Facebook!
Art Box - Caja de Arte Spanish Immersion Arts Camp - Summer 2014!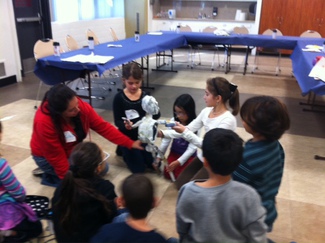 Sign up NOW!
VOX BOX summer arts camp is a 4 week program geared towards Kinder-6th grade students (ages 5-12) in Spanish Dual Immersion programs and fluent Spanish speakers. This innovative program is directed by Janice Markham along with her amazingly talented team of master artists/performers/puppeteers including Patricia Krebs and Estela Garcia. Caja de Arte includes visual art, theater games, improvisation and puppet-making, and there will also be special guests in the fields of art, writing and music to do "master classes" with the kids.
June 9th – July 3, 2014

Monday-Friday 9:00am-3:00pm

Extended care available after camp (3:00pm-6:00pm)

Students will bring lunch and water bottle from home,
healthy snack will be provided

Incarnation Community Center
214 West Fairview Avenue
Glendale, CA 91202
Here's a link to a video from our Winter Art Workshop.
Here's a link to a music video we created Summer 2013
$50 deposit per student per week can be paid by PayPal here:
And to pay your summer tuition follow this link:
or a check payable to Vox Box Arts Collective can be sent snail mail to:

Vox Box Arts Collective
4932 Hartwick St.
Los Angeles, CA 90041


---
---
coming soon... "Ron and Laura Take Back America"

Vox Box Arts Collective is proud to announce the upcoming release of their feature film collaboration with Magical Iguana Productions, "RON AND LAURA TAKE BACK AMERICA"

View our trailer
Donate to post-production costs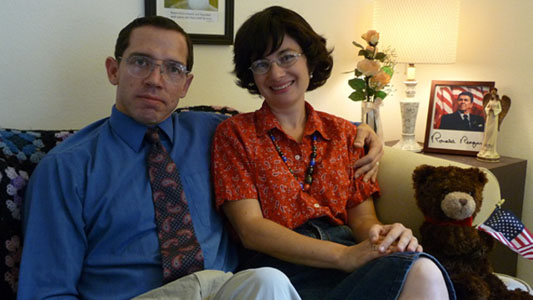 ---
Mostly Kosher has a very busy fall season - click here for our full schedule!